Winter Lovers
To warm the hearts of those who love to enjoy winter!
The flakes are out! For your winter party, our breathtaking characters will be happy to offer a unique experience to your citizens. They are generous and have energetic personality, perfect for playing in the snow, taming the ice and fascinating the crowds even in winter conditions!
Available on the ground, ice-skates or stilts depending on the character chosen. Impress the gallery with our bright evening costumes when possible (see photos).
Minimum 3 sets per character. Sets of 30 min/h.
+ See also our Christmas characters on the Christmas entertainment page.
Stella
Keeper of the dream world

This fairy regularly visits the world of dreams… When she returns to our world, she shares her stories and ask the families to collect their dreams.
She keeps all these ideas very preciously in her magic ball she handle with grace in order to sprinkle this magic and lightness when our world needs it !
Available on the ground, stilts and L.E.D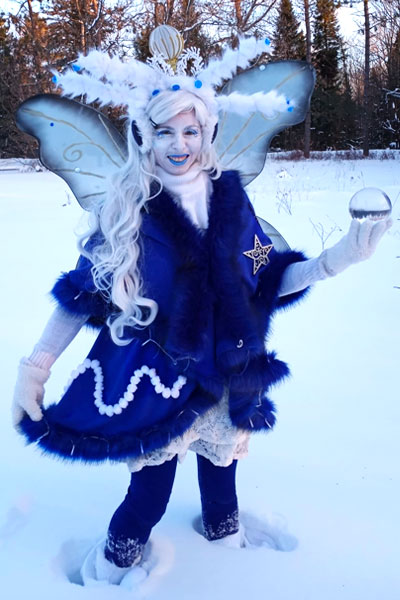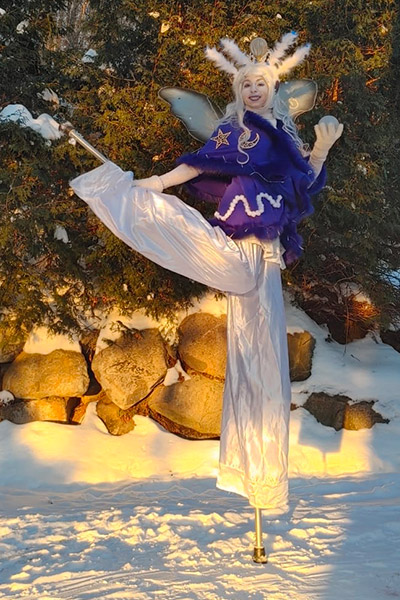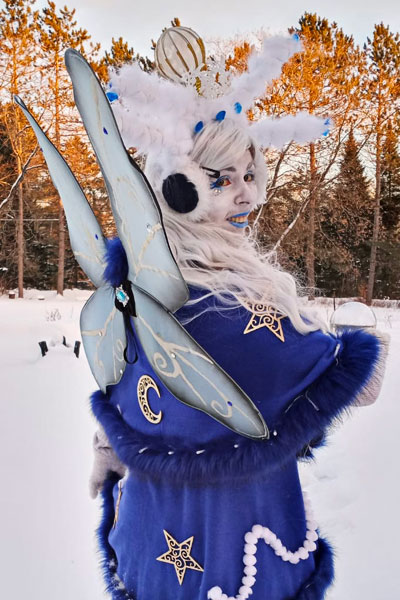 Zayana
L'enchanteresse des forêts
Personnage fantastique venue d'une forêt enchantée, elle vous transmettra son amour des arbres et de la nature avec passion ! Cette mystérieuse enchanteresse lira en vous comme dans un livre ouvert….
Prédictions farfelues, effets visuels et envoutement garanti !
Available on the ground, stilts and L.E.D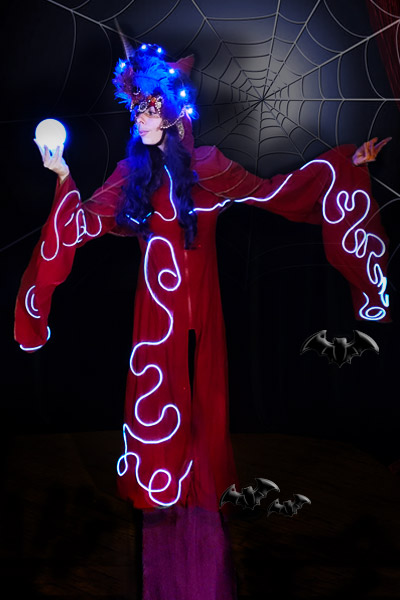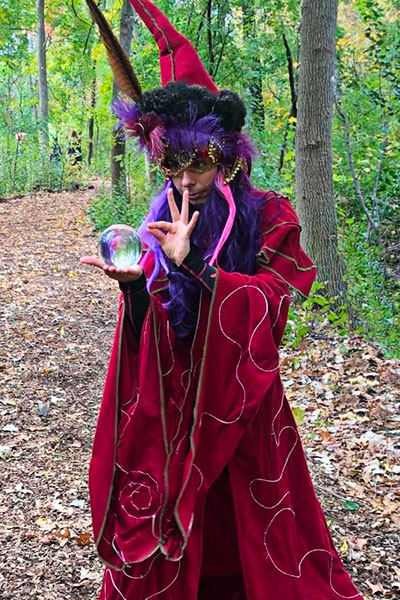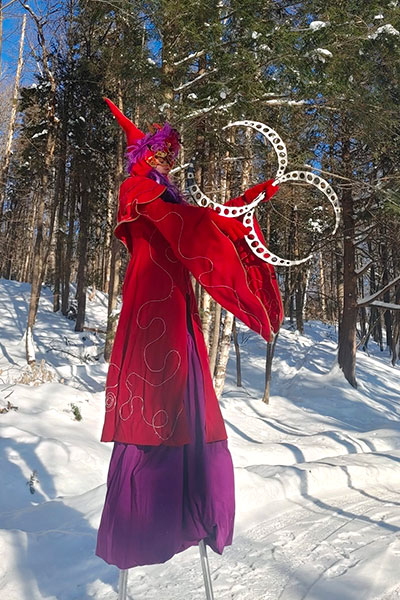 DiscoPatin
With Space-Bianca, Elvis, Sheyla et ses acolytes, vos événements de patins animés sont entre de bonnes mains…
De jour ou de soir, nos artistes ne passeront pas inaperçus, vous plongeront dans l'ambiance funky festive que vous souhaitez créer et feront swinger la glace, au rythme des rires des petits et grands…
Ajoutez de la jonglerie lumineuse à la tombée de la nuit et rendez ce moment magique !!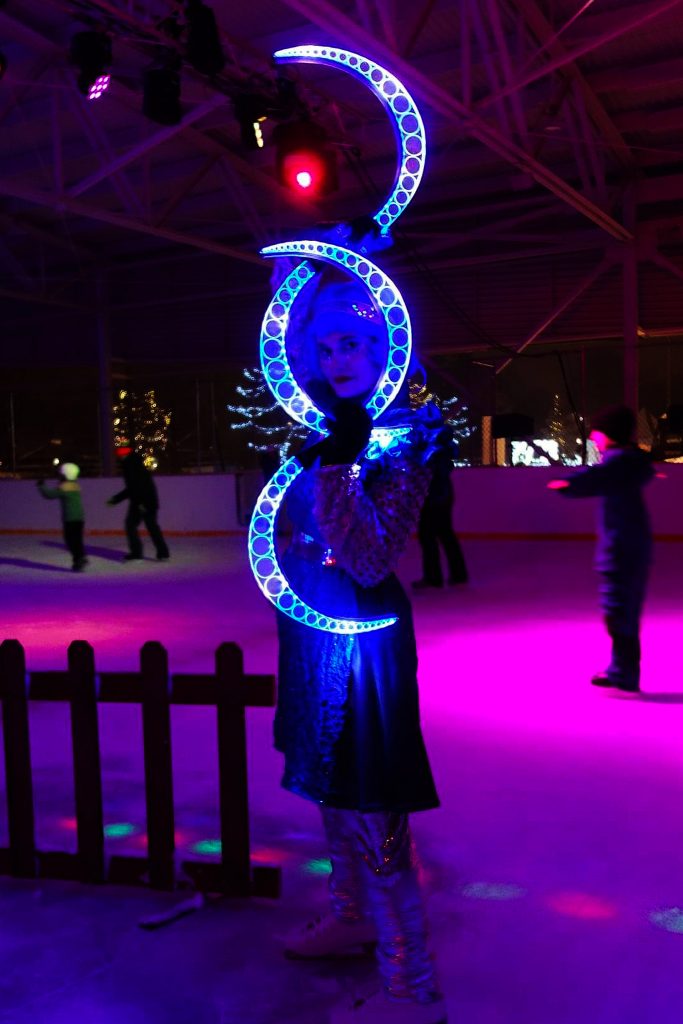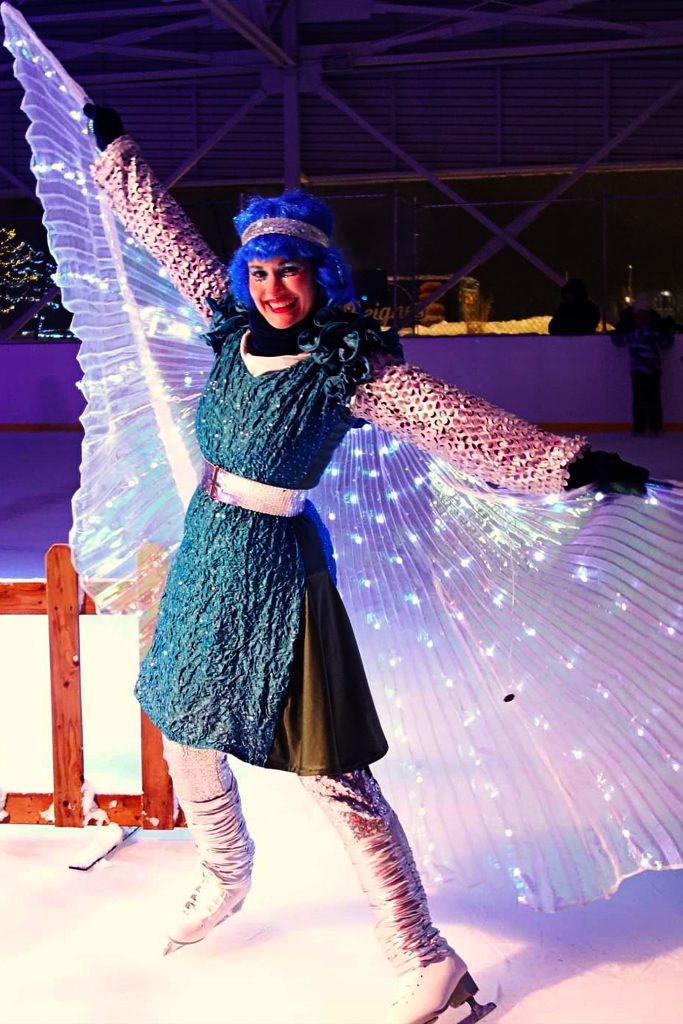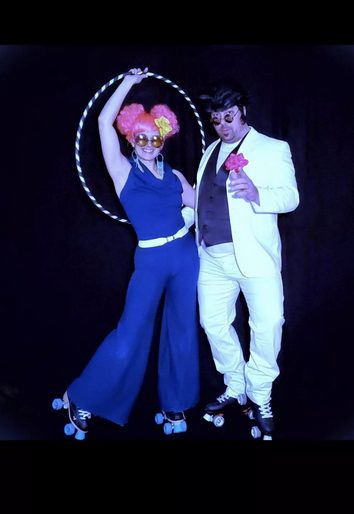 Gwendoline
Descendue d'un nuage lors de la grande tempête de janvier 2022 cette fée a d'abord atterri au pays des lucioles …
Venue des histoires légendaires celtiques, le nom de Gwendoline pourrait se traduire par lune d'argent. Très douce, elle adore raconter des histoires avec son noble ami l'ourson Awen.
Available on the ground, stilts and L.E.D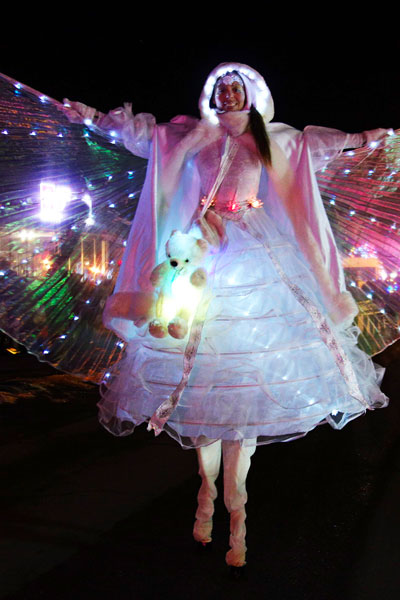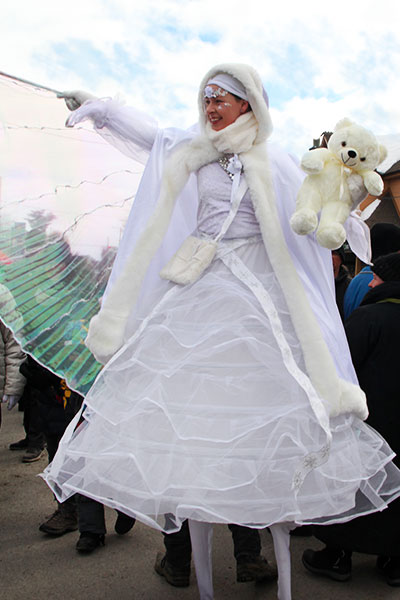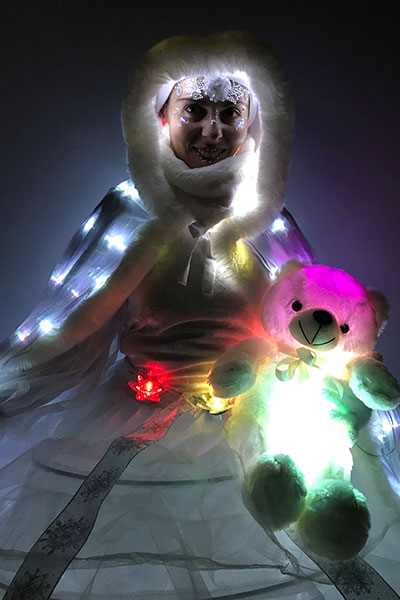 Willie
La bibitte géante
Est-ce une araignée, une moufette, un panda ? Un mélange de tout ça… Un personnage impressionnant mais qui saura amadouer les plus petits en remuant les fesses et avec ses drôles de roucoulements !
Personnage très sociable, elle aime tendre la patte vers vous pour faire connaissance. Elle aime se faire flatter
Disponible en version de jour ou L.E.D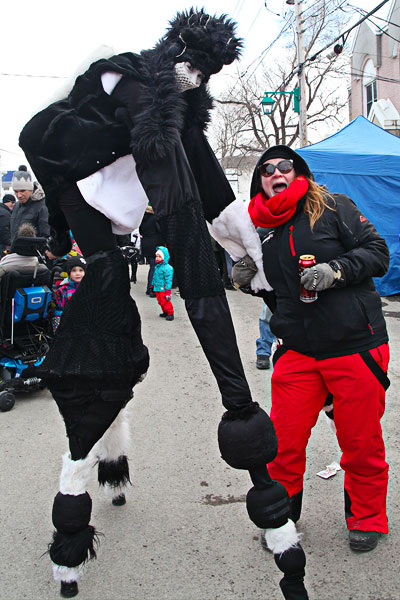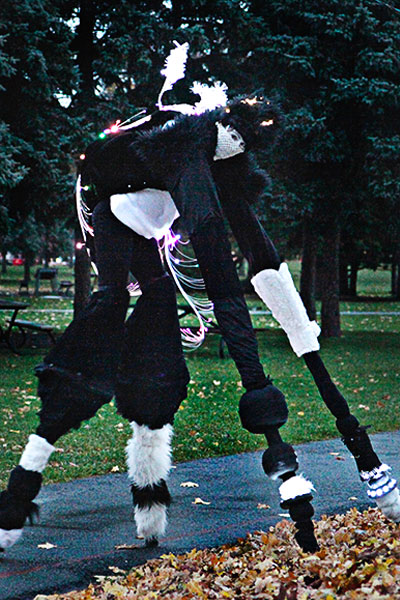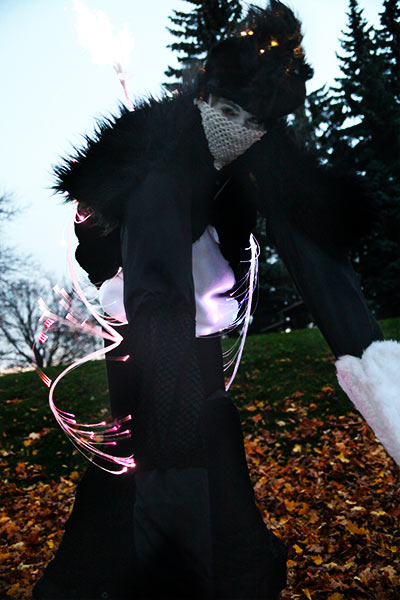 Les cabaneux
Amateurs de tire d'érable et de cabanes à sucre, ils vous animeront un Sept carrés, avec accordéon, jonglerie et de multiples talents.
De quoi réchauffer les coeurs et répandre les sourires.
—–
Disponibles en solo ou duo. Au sol ou en échasses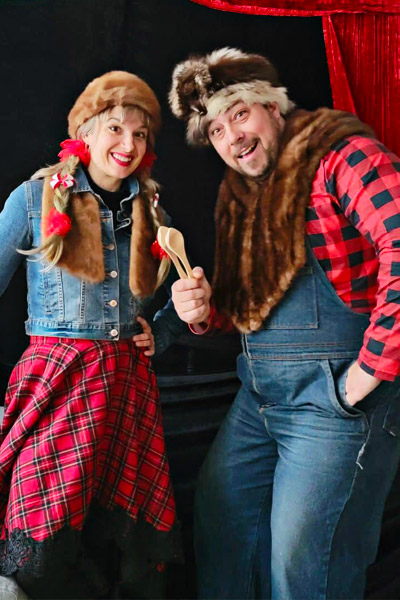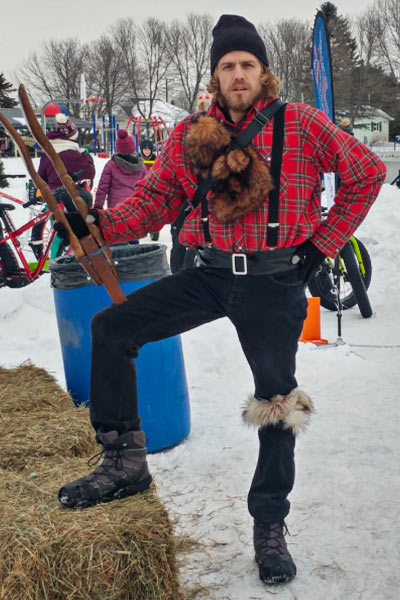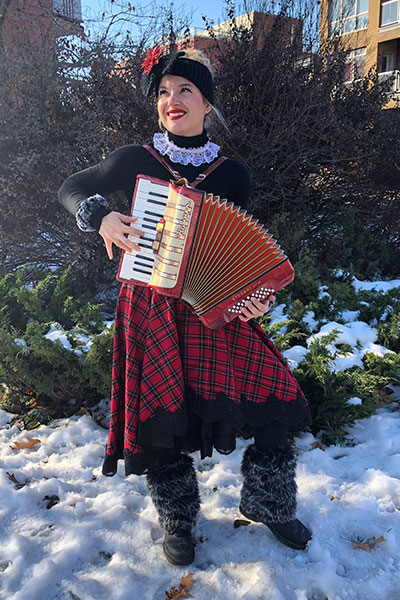 Cassandra
Winter wellness advisor !

A humorous animation of a councelor who is not afraid of ridicoulness!! On the programm : challenges of moove, jump, dance and laugh to stay warm at any time !
Keep up the pace and have fun !
Available on the ground or with ice skates.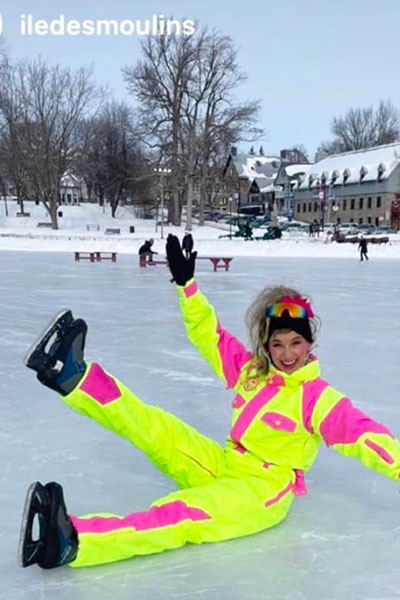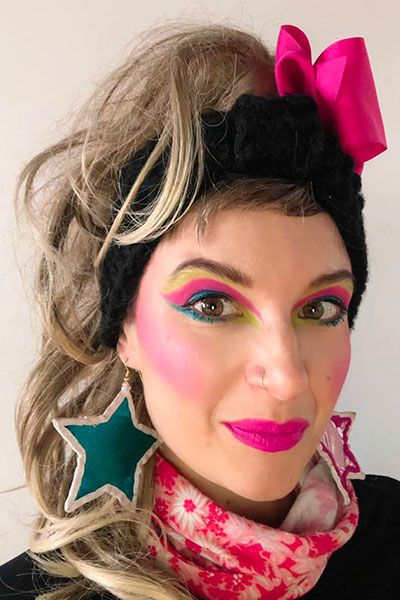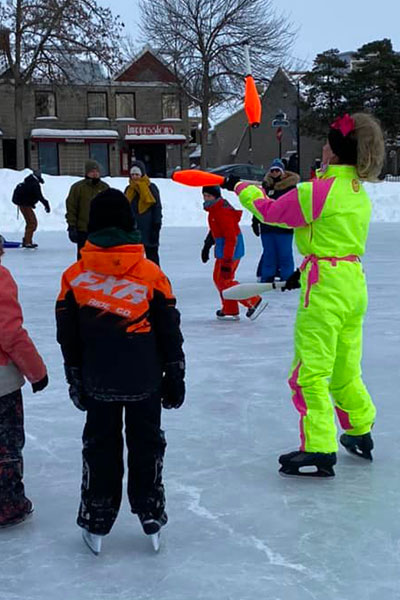 Leonie the unicorn

Descendue de son arc-en-ciel rien que pour vous, Léonie se fera un plaisir de vous illusionner avec sa canne qui vole et ses 1001 tours !
Disponible en bottines ou patins, de jour ou de soir, pour votre plus grand plaisir !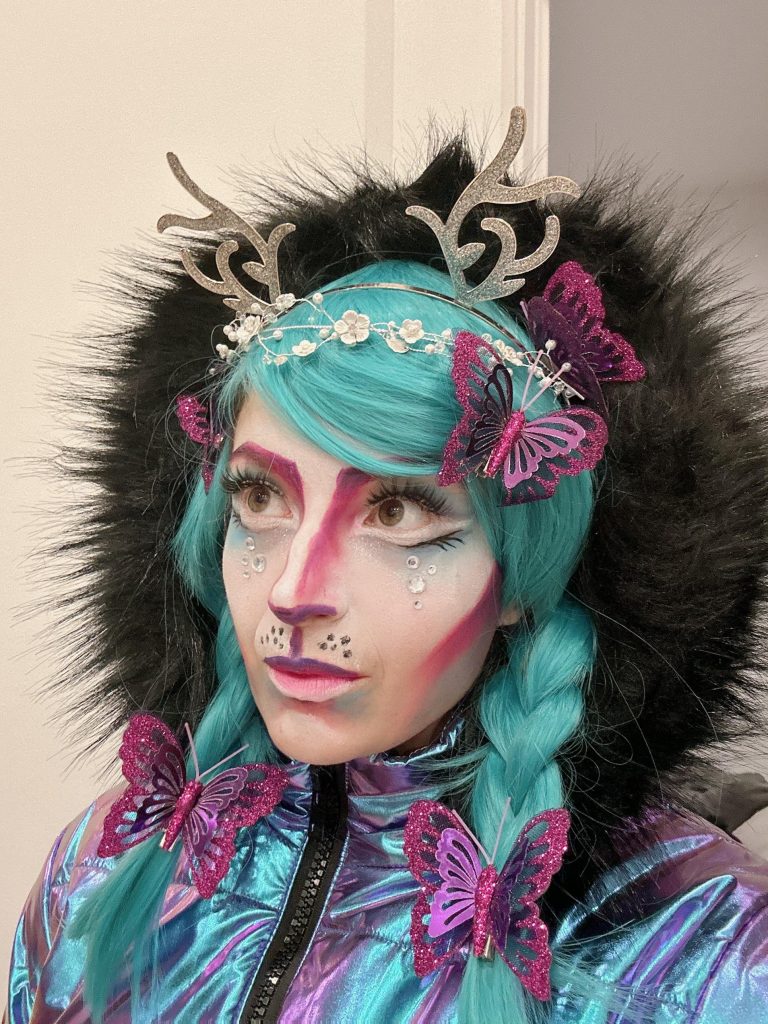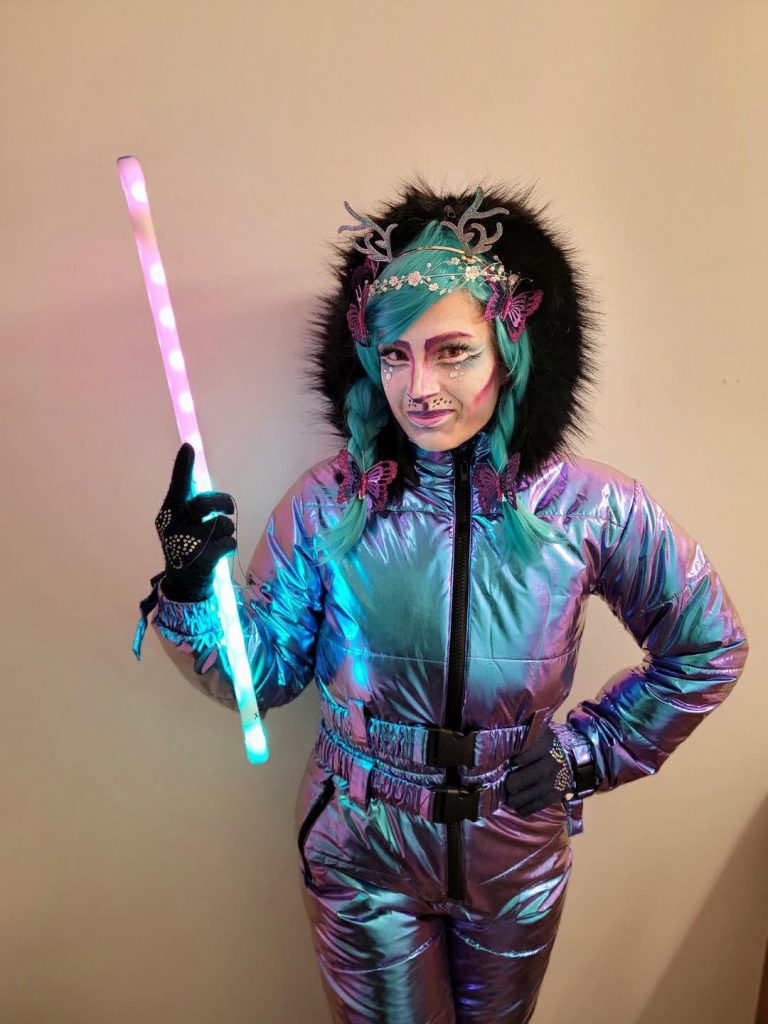 Waputiks
Les chèvres acrobatiques
Ces chèvres féériques des montagnes rocheuses de l'Ouest canadien sont toujours prêtes à vous émoustiller de leurs fanfaronneries et exploits acrobatiques sur la glace, la neige et dans les airs.
Ils adorent courir et jouer avec les enfants !
Disponible en solo ou duo, au sol, en échasses et en version L.E.D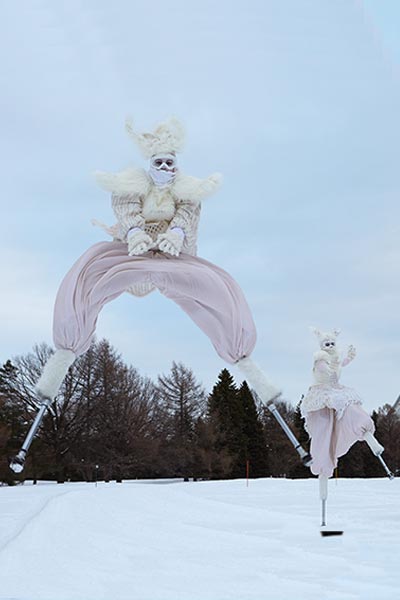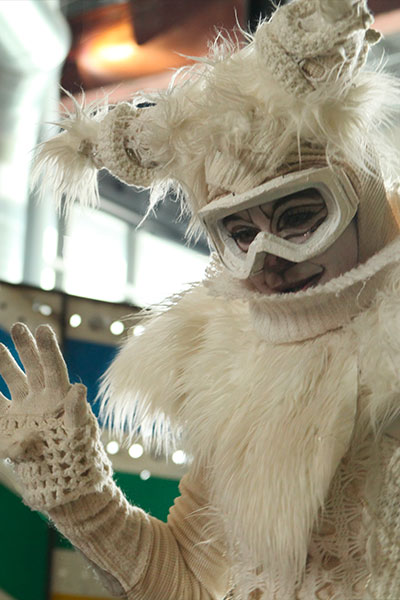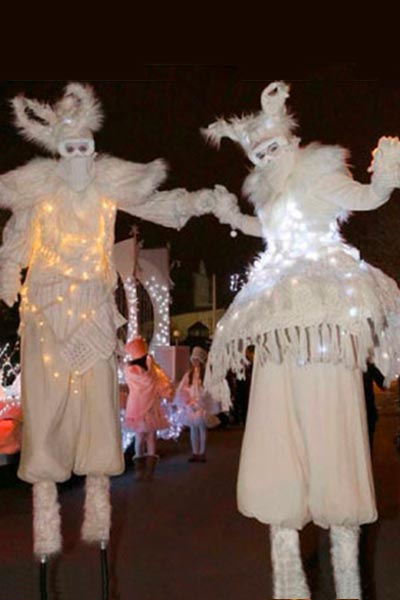 Dame nature
Dame nature s'est matérialisée, le temps d'une animation, pour vous conter avec plaisir le cycle des saisons.
Quels types de flocons préférez-vous ? Connaissez-vous des jeux de neige ? Dame nature, elle, en connait des tas !
Elle vous éblouira et réchauffera votre hiver avec son esprit et sa fougue !
Disponible en échasses seulement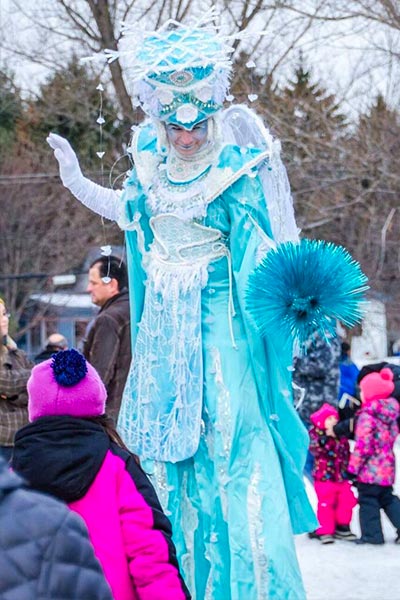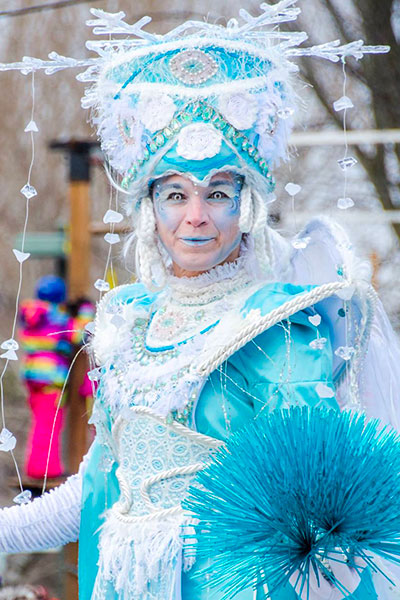 Griselda & Marmelade
Goutez au raffinement et à la délicatesse de ce petit chaperon rouge des temps modernes ! Elle vous dira peut-être ou elle cache ses pots de confiture !!
Available on the ground, ice-skatings and L.E.D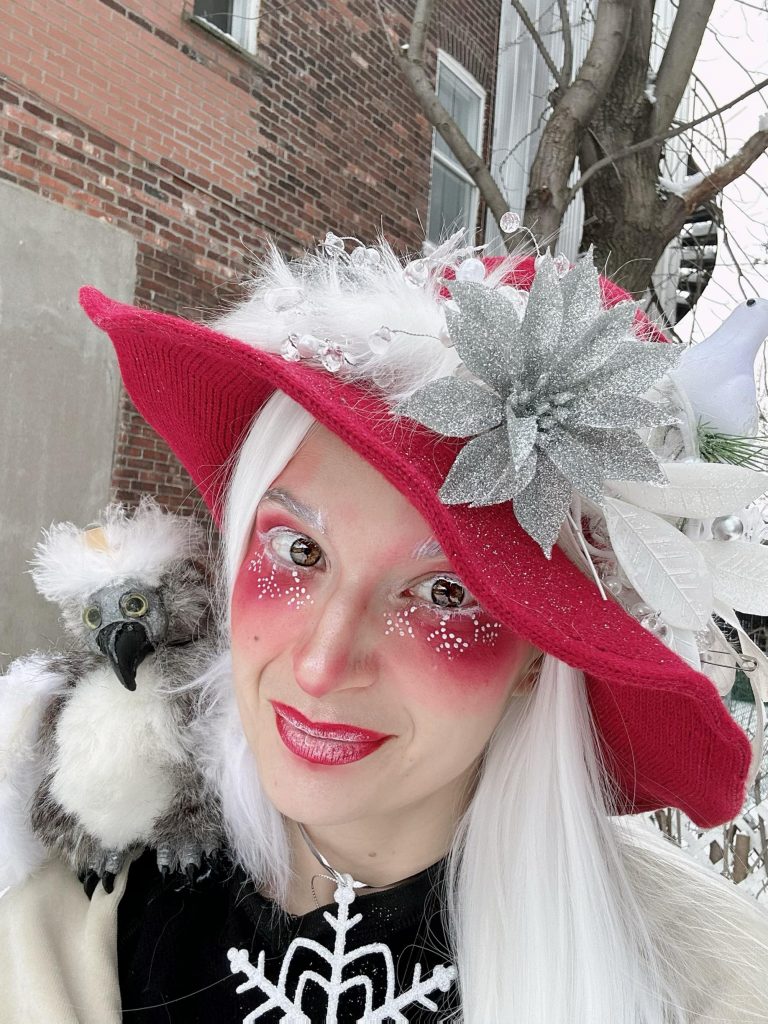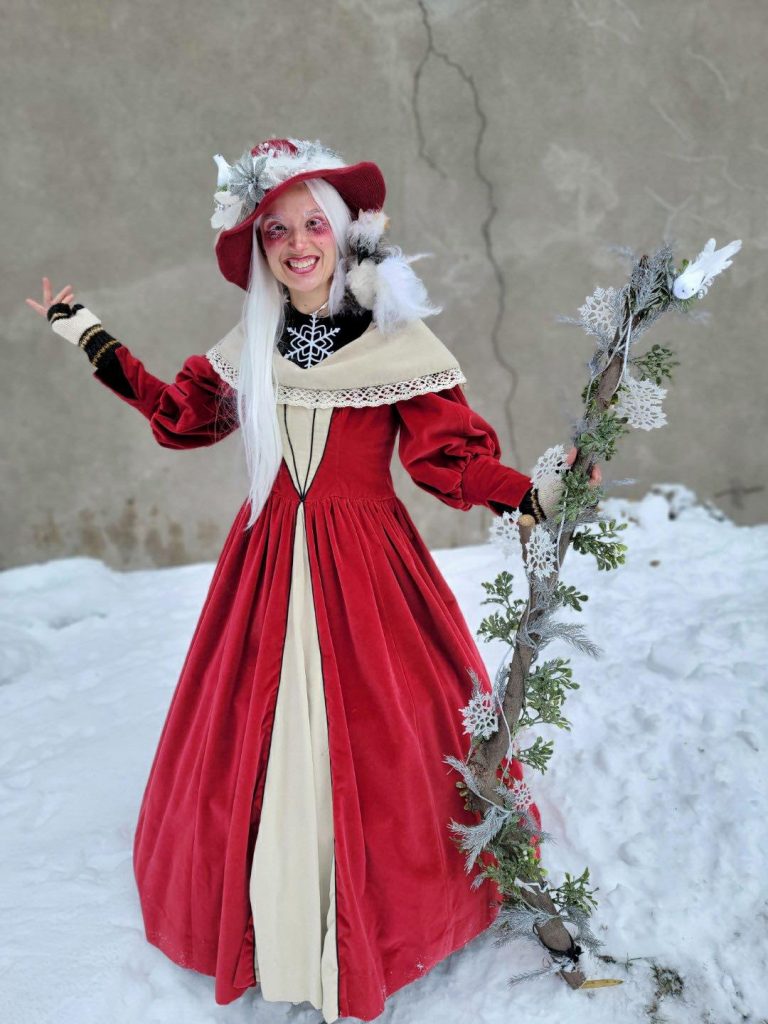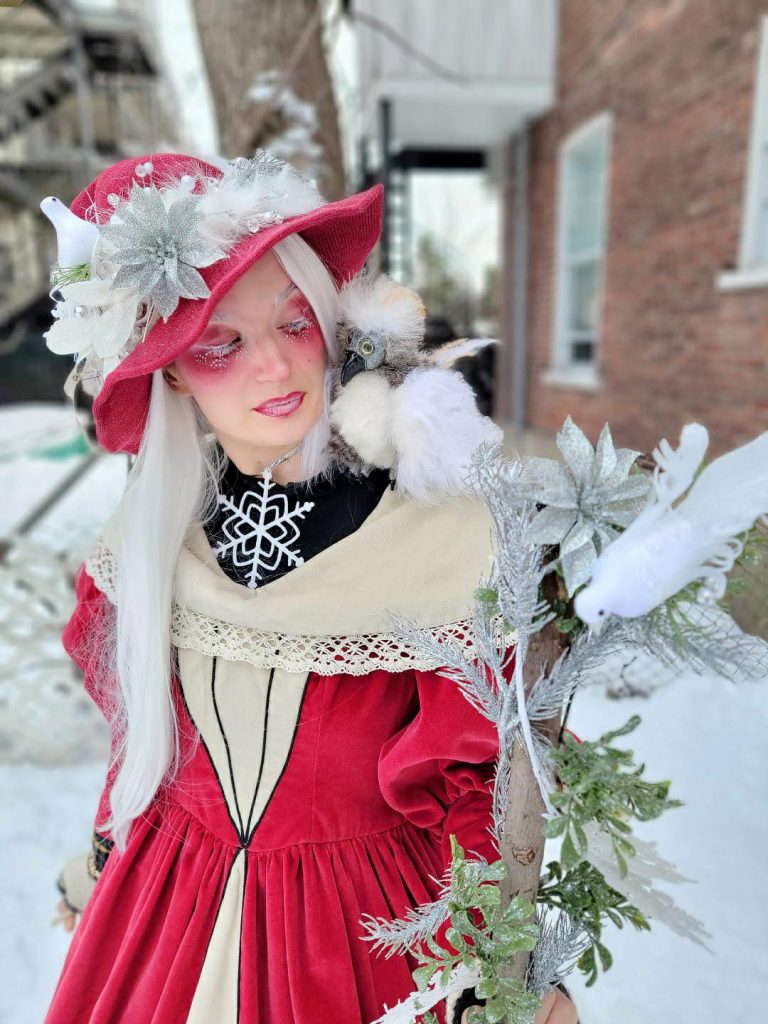 Some examples of rates
Minimum 3h per artist - Prices before transport, before taxes (for information only). Sets of 30 min/h
Hello,

To answer your questions, I found the reservation easy to make and your rates affordable. The two animators were very friendly and independent. Nothing to change, keep up the great work!

Thank you and good day,

Louis-Philippe Chrétien, head of sports and events division, Ville de Lorraine
Hello !

It was a pleasure to receive you!I really appreciated the ease of contact and the speed of responding. The entertainment was perfect.
Have a good day !

Marie-Lyne Dubé, Recreation Technician, City of Saint-Sauveur
"CIRKAZOU – Moments of sharing and magic …. THANKS THANKS THANKS

CooPÈRE Rosemont offers FATHER / CHILD services in the Rosemont district. For our Christmas party, the two artists and clowns of CIRKAXOU offered a beautiful entertainment to enable PARENTS and CHILDREN to have a nuique moment that allowed them to try out a whole range of objets (juggling, devil stick, diabolo, scarf, chinese plates, stilts and many others).

Thanks to CIRKAZOU, this beautiful moment allowed participants to spend a moment together, to get to know each other better, to develop a PARENT / CHILD bond.

CIRKAZOU also offered an exceptional facepainting service for everyone. CHILDREN and PARENTS could see themselves ans offer beautiful colors during the day !

One watchword : CALL CIRKAZOU !"

Romain Neveu, Social facilitator, Coopères Rosemont